The ULTIMATE evidence room organization!
Watch your stress vanish as you gain total control of the evidence room!
A sworn police officer and evidence handling expert will COMPLETELY organize your evidence room into a 21st Century paperless system!
All of your past case records will be entered into the Exhibit-A: Evidence Database. No room is too messy for us to organize.
When we're done, not only will you be able to walk through your evidence room again, you'll be able to locate any piece of evidence within seconds, and print out inventory reports, officer logs and more.
Instead of your department spending months of overtime pay and/or time off the streets, we will complete your Historical Entry in less than a week.
Typically, your purchase of Exhibit-A Software with Historical Entry Service is less expensive than the cost of many of our competitor's software alone!
It's time to be proud of the fact that you're in charge of the evidence room! Call us today for a quote.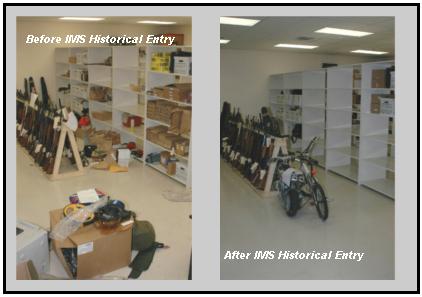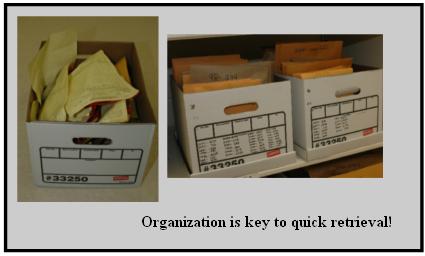 Evidence Mismanagement in the News (Don't let this happen on your watch!)
Our Service Agreement for Historical Entry and Organization Services
Most Police Agencies have hundreds of cases with thousands of pieces of evidence in their evidence storage rooms. Because of limited manpower, it can take months to enter all this back evidence into the database. Integrity Management Solutions will bring in a team (including a sworn police officer and data input specialist) to enter your Historical Evidence into Exhibit-A and organize your evidence room.
Historical Entry and Organization:
Prices vary depending on quantity of evidence and organizational needs.
Call for a free quote.

812-201-8722
Integrity Management Solutions, LLC will install Exhibit-A on the department's existing computer for the purpose of tracking evidence in the evidence system. IMS will also organize and complete the historical entry of cases already in the storage facility/system.
Data entry and organization will include any and all evidence existing in the property room. During data entry, IMS takes some liberty in item descriptions that have obvious typographical errors or illegible writing.
IMS recommends that all items of evidence be sealed in packaging if possible prior to data entry. Items that are not packaged or sealed will be placed inside packaging unless the item is too large or otherwise difficult to package or store as such. The evidence room will be organized so that individual cases have all items stored together if possible. Syringes or other health risk items will be stored separate and marked as hazardous.
Evidence will only be handled by a sworn police officer employed by IMS or the client's department representative. No other employee of IMS will be permitted to handle evidence. IMS gives permission to any department personal to randomly inspect, search, and observe any and all actions of its employees and equipment used by IMS. The client is responsible for allowing entrance or access to the property room.
IMS maintains the strictest confidentiality. No information from within the property room whether it is the condition of the room, missing items, nature of items, criminal information, or any other types of information will be discussed with anyone or any entity unless instructed to do so by the client.